Bulkhead Fittings, Automatic Fish Feeders, Fluidized Bed Filters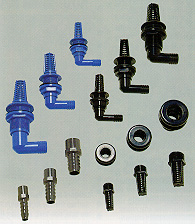 Bulkhead Fittings and Kits
Bulkhead Fittings

PART NUMBER

SIZE

REQ. HOLE

END

PROD GRP

LIST PRICE

270900
1/2"
1 1/8"
FPT x FPT
800
N/A
270904
3/4"
1 1/2"
FPT x FPT
800
N/A
270902
1"
1 3/4"
FPT x FPT
800
N/A
175141
1/2"
1 1/8"
FPT x SOC
800
N/A
175106
1"
1 3/4"
FPT x SOC
800
N/A
172334
1 1/2"
2 3/8"
FPT x SOC
800
N/A
270560
2
3"
FPT x SOC
800
N/A
* FPT = Female Pipe Thread
* SOC = Socket (Female slip glue joint)
Bulkhead Strainers

PART NUMBER

SIZE
END

PROD GRP

LIST PRICE

270554
1/2"
FPT
810
N/A
270556
3/4"
FPT
810
N/A
175251
1"
FPT
810
N/A
270557
1 1/2"
FPT
810
N/A
270561
2"
FPT
810
N/A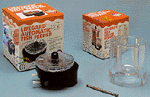 Automatic Fish Feeder
Silent and Dependable Electric Motor
| | |
| --- | --- |
| | Prefect for Vacations |
| | Gives you Peace of mind from Daily Maintenance |
| | Feed one to four times per day .... automatically |
| | Keep your fish healthy and well fed |
| | Also dispenses dry medication |
| | Easily attaches to all standard aquariums |
| | Pre-determine Time and Number of feedings are consistent each day |
| | Silent, Reliable and High Quality electric motor 115Volts and 2.7 Watts |
| | No Batteries to Fail or Replace |
| | Durable, Easy Installation and Maintenance |
| | Optional Lifegard Fish Food Hopper allows you to expand the capacity of your fish feeder. The Hopper can hold up to 4 months of food supply for your fish. |
| | UL Listed |
Automatic Fish Feeder

PART NUMBER

DESCRIPTION

PROD GRP

LIST PRICE

270100
Automatic Fish Feeder
820
N/A
270110
Fish Feeder Hopper
820
N/A


Fluidized Bed Filter
Construction: Rainbow's quality molding and assembly presents a unique shape designed to actually hold more media than round tubes. Its flat back aesthetically brings the unit close to aquarium wall. The unit includes all necessary fittings for installation plus a self adjusting clamp, free standing base, and media.
Flow Control Valve: Simply turn the valve for adjustment of fluidization level. Can be removed to add media.
Water Fall Attachment: Increases oxygen level by spreading out a thin sheet of gently falling water.
Bottom Diffuser Plate: Lifts the sand bed evenly for perfect fluidization each time.
External Check Valve: Mounted externally for easy servicing. Prevents sand from clogging inlet pipe when power shuts off.
Top & Bottom Inlet Ports: Top inlet port allows easy installation to submersible power head pumps when unit hangs on aquarium. Two bottom inlet ports allow installation to a Lifegard Modular System or any in-line filter system when unit is installed inside aquarium cabinet. Two or more filters can be plumbed together with bottom inlet ports on each side.
Fluidized Bed Filters

PART NUMBER

DESCRIPTION

PROD GRP

LIST PRICE

270203
FB300 up to 300 Gallon Tank
830
N/A
270206
FB600 up to 600 Gallon Tank
830
N/A
270209
FB900 up to 900 Gallon Tank
830
N/A
270241
3 lb. Bottle of Filter Media
830
N/A